Used Yamaha Grand Pianos for Sale.
Search here for a beautiful Yamaha baby grand piano. Memphis TN and other cities. These instruments are being sold by individuals. Usually you will contact the piano owner directly. You are buying the piano from it's owner, not from this website.
If you have a piano for sale, contact us at sellmypiano@thepianotickler.com
We will put up your FREE AD right away.

_____________________________________________


Yamaha GB1 Baby Grand for Sale - $6,500 - Cash Only
It has a QRS player piano system. 901-827-3609
Located in Germantown, Tn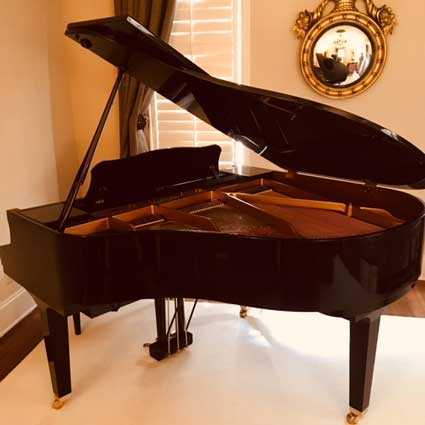 _______________________________________________________
Yamaha Baby Grand Piano - $14,000 - This Yamaha grand was made in 1996. The length is 5'3". This piano has been tuned once a year since it was purchased new by the original owner. A complete cleaning inside and out was done about a year ago. Piano bench included. See this grand on Mud Island in Memphis,Tenn.
Call John at 901-827-3609 for more details.
Yamaha Piano Facts and History
Yamaha Piano company was established in 1887. It's founder was Tarakusu Yamaha. He passed away in 1916. Yamaha was the first Japanese piano maker. Millions of Yamahas have been made over the years, with plants in Japan, America and Indonesia.
They also have made pianos for other companies, such as Story & Clark in the 1970's. In 1973 Yamaha bought the Everett Piano Company in South Haven, Mich. They built a factory in Thomaston, GA in 1979. The Mich. factory closed in 1986. The Thomaston plant has also stopped production.
Production started in Indonesia in 2000. Yamahas are also still being made in Japan. But not as many as used to be. They are probably the world's most popular piano. Compared to prices in the 1970's, yamahas now are much higher in price. New baby grands cost well over $10,000.
America has been a huge market for them since the 1960's. But in recent times there are just not as many new pianos being bought. A lot of the reason is that new pianos nowadays are getting to be very expensive. This of course means that less new instruments are being bought.
But what about used Yamaha baby grands? You won't find very many on the open market. Even some dealers are struggling to find good used ones to sell. A used Yamaha grand piano is a rare find.
And even much older grands don't seem to be very plentiful. Although some of the older ones are in need of a rebuilding, which can coast as much or even more than buying a brand new yamaha.
So if one is determined to acquire a second hand grand, than it is advisable to take a good look at any and all Yamaha baby grand pianos for sale. Happy shopping!